The Early Settlers of the Delta country of Mississippi, Louisiana, and Arkansas were a breed apart and it is doubtful we will ever see again the likes of the land they tamed. Many of those pioneers and their backwoods adventures have been forgotten. The purpose of the Canebrake Hall of Fame is preserve such memories of those woodsmen, bear hunters, panther hunters and others -- as still exist. We also hope to include and honor those who had the vision and love to set down the stories of those times for the generations that would come after cane, the bear, and the panther were gone. If you know of anyone who falls into those categories who you believe should be included in the Hall of Fame, please contact us. Right now we plan to limit membership in the Hall of Fame to those who settled or hunted or traveled in the Lower Mississippi Valley areas of Mississippi, Arkansas, Tennessee, and Louisiana before 1920 or who wrote about those who did.
Wade Hampton III (1818 --1902). Wade Hampton III, born in South Carolina in 1818, bear hunted extensively on his sprawling plantations near the present day Delta village of Glen Allen, Mississippi, on the shores of Lake Washington in Washington County. Hampton, a consummate horseman, served R. E. Lee's Army of Northern Virginia as a cavalry general during the War Between the States. Said to be one of the most physically powerful men to wear the gray, he reputedly could lift a full grown bear's carcass and place it on the back of a horse or mule singlehandedly.
Hampton, as a cavalry commander, certainly seemed almost invincible. Though in his mid-40s during the War, he outfought northern soldiers much younger than he in hand-to-hand combat, and survived numerous pistol, rifle, and shrapnel wounds, as well as sabre blow that fractured his skull.
After the war Hampton continued to divide his time between political duties in his home state of South Carolina, which he served both as governor and U. S. Senator, and his Mississippi Delta plantations, where he spent much time in the woods hunting bear.

Like many Delta bear hunters, Hampton often killed his quarry with a knife rather than a gun. Hampton is reported to have killed some 80 bears using a knife alone. A buckhorn handled doubled-edged knife with an eight and a half inch blade, said to have been the General's "bear knife," is still owned by his descendants today. Theodore Roosevelt called Hampton, "with horse and hound, the mightiest hunter America has ever seen." Whether that is true or not, writer Lindsay Dennison credited "Hampton's chronicles of Mississippi black bear chasing" with prompting Roosevelt to accept an invitation to hunt in the Mississippi Delta in 1902.

Like Theodore Roosevelt, Hampton was a true conservationist credited with stocking many of the game fish barren streams of the southern Appalachians with brook trout. He would hike far into the mountains, carrying buckets of small trout to be released in the headwaters of mountain creeks.

Hampton died just seven months before Theodore Roosevelt made his famous bear hunting trip to the Delta in the fall of 1902.



Asa Benjamin Edwards (1808 - 1871)
. Born in Kentucky, Asa Edwards relocated to the Mississippi Delta in the 1840s, settling first in Coahoma County in the vicinity of Moon Lake. While Asa would eventually develop a cotton plantation, he first made his living fishing, trapping, and market hunting.
The Hall of Fame continues to search for a photograph or reliable portrait of Asa Edwards. Until then, the best descriptions we have of him come from the pen of Col. James Gordon, of Pontotoc County, Mississippi, who hunted with Asa before and after the War in the vicinity of Moon Lake:
"[H]e was the beau ideal of a hunter clad in buckskin hunting-shirt and leggins, with an otter-
skin cap on his head and a coon-skin pouch in which he carried his ammunition swung across his shoulders, and a short rifle in his hand; about five feet ten inches tall, round-bodied, but with no surplus flesh, and with muscles like corded steel. His hair was steel gray and inclined to curl where it fell below the temples. His features were regular, and by long exposure to sun, rain, and
miasma were wrinkled and bronzed; but,clear and brilliant through a complexion like a tanned alligator-skin, sparkled a pair of merry blue eyes that indicated a soul as . . . free as the wild woods he loved so well."

Asa, at the time of that word picture, was "an old man of sixty," but "with a constitution that would live where an alligator would die of consumption; and soul enough in that compact frame for a whole Methodist camp-meeting. Nature made him a nobleman and a freeman, and generous as brave."
The Hall of Fame does have some engraved prints of Asa as an artist imagined him from Gordon's descriptions, including the one reproduced here of Asa surrounded by his dogs and sitting on a bear he has just killed. For now, that is the best portrait the Hall of Fame can produce of Asa Edwards.
Asa, not only was a hunter, but quite the canebrake chef, according to Gordon. Asa's specialty, which must have impressed Gordon, for he wrote about it on more than one occasion, was a rolled roast he called "a filibuster" composed of slices of bear meat and liver, venison, and bacon, pinned together with sticks of spice wood, a favorite backwoods seasoning additive, all slow cooked on a spit over campfire coals. "[A] more savory dish," Gordon assured his readers, "never regaled the palate or olfactories of a hungry hunter."
Gordon's writings indicate that Asa owned a fine hunting horse and approximately 25 bear dogs, with names like Bear Grease, Bravo, Granger, and Rapid. Gordon's articles also leave no doubt that "Old Asa, the Bear Hunter," as he was known in the upper Delta in post-bellum days, had an unsurpassed knowledge of the ways bear, panther, deer, and the Delta backwoods and rightly deserves a place in the Canebrake Hall of Fame.

Holt Collier (1846 - 1936). Born a slave on a Jefferson Coun
ty, Mississippi, plantation, Holt Collier led a life of adventure that included a stint as a Confederate cavalry trooper, wild-west-style gunfights, and hunting trips to Mexico and Alaska
Howell Hinds, Holt's boyhood master, recognized a talent for shooting sports in his young slave and encouraged Holt's development of his skills, often letting the boy sit in the saddle behind him as he rode through the woods and brakes in pursuit of game. Collier early acquired superior expertise as a horseman and, as a teenager, already was a crackshot with pistol, rifle, and shotgun, firing long guns from either shoulder and pistols from either hand with equal effect.
During the War Between the States he served as both a scout for General Sullivan Ross's Texas Brigade and as a sharphooter. After the War Collier bested some of the finest wing shots in the southern Mississippi Valley in the quail shooting contests that were popular in those days, once winning a $1000 dollar purse for his old master and contest sponsor, Col. Howell Hinds.
Collier, of course, made his name as a bear hunter--among the greatest of all times. He killed his first bruin when he was but ten while hunting with Howell Hinds. In the 1880s, when the railroad companies began to build tracks through the Delta, Collier made a substantial living supplying bear meat to railroad labor crews. Collier claimed – and no one disputed him – to have brought to bag some 3000 black bear over a hunting career that stretched from before the War Between the States until the early 20th century, averaging from 125 to 140 per season in his best years. To this day Collier is best remembered for his role as chief huntsman for President Roosevelt's 1902 Mississippi bear hunt and for his role in the celebrated incident of that hunt that resulted in the naming of the teddy bear (more about that story here.)
Holt Collier would later be invited to dine at the White House with Roosevelt, but would decline, no doubt in deference to the racial attitudes of his Southern white friends. Holt hunted again with Roosevelt in 1907 in Louisiana and was given a commemorative Winchester .45-70
by the President. An unnamed man borrowed the rifle, Holt told an interviewer in his old age, and never returned it. Other guns that belonged to Holt are still accounted for.
A Mississippi man bought from Collier the lever action Winchester Model 87 ten gauge shotgun pictured above and the 1870s vintage Parker double barreled eight gauge shotgun at right when Collier was old and no longer able to hunt. Both shotguns are pictured with eight, ten, and twelve gauge shells in order to give an idea of the sizes of ten and eight gauge guns in comparison to the more common twelve gauge.
Holt Collier died in Greenville, Mississippi, in 1936.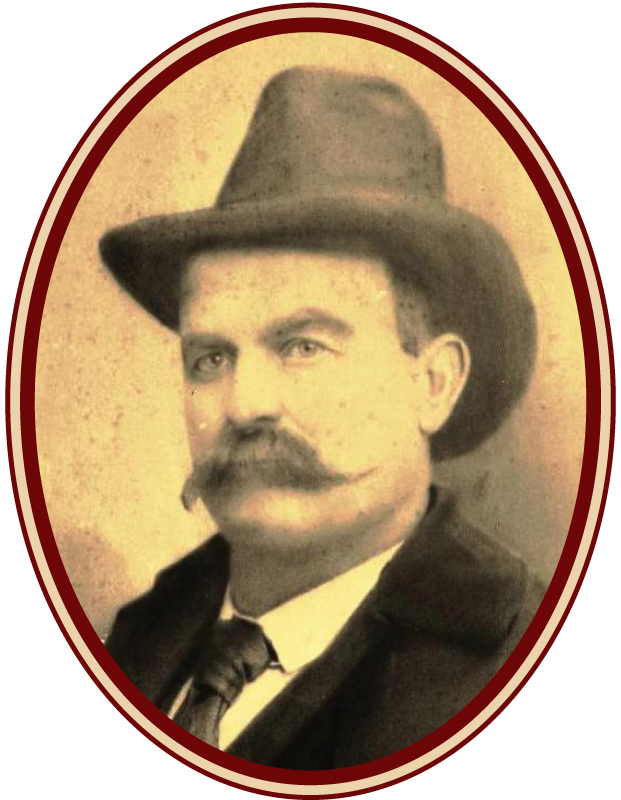 Robert Eager Bobo (1847 - 1902). Born in Panola County, Mississippi, Robert Eager Bobo was arguably the most famous bear hunter in the world in the 1890s. Following the War Between the States, in which the teenaged Bobo served as cavalryman, he developed a prosperous plantation in Coahoma County while simultaneously acquiring a reputation as one of the foremost bear hunters of the region. Among those Bobo is said to have hosted on bear hunts was the notorious outlaw Jesse James. Emerson Hough, a prominent book author and prolific magazine writer of the 1890s, who had hunted much of the Midwest, the South, and the Rocky Mountain states, believed Bobo to be the foremost authority on black bear hunting of that day.
Bobo hunted primarily in Coahoma, Bolivar, and Sunflower Counties, with much of his hunting in his later years done in the vicinity of the present site of the state penitentiary at Parchman, Mississippi. Bobo, like most Delta bear hunters of his day, pursued his game from horseback using dogs bred and trained to track and fight bear. Said to have the best bear pack in the Magnolia State, Bobo owned as many as 80 dogs at a time.
While Bobo could not give an exact number for the bears he had killed (often with a knife) other than "many hundreds, surely," he often noted that in one year (September 1873 –September 1874) he took killed "304 bears, 47 cats (wildcats), 21 deer and 17 panthers." One gargantuan bruin he killed weighed 711 pounds, field dressed.
Bobo 's fame reached international proportions after Chicago writer Emerson Hough bear hunted with him in 1894 and 1895 and wrote accounts of their hunts in a series of articles for the

premier outdoor magazine of the day, Forest and Stream. Bobo's descendants still owns the .44-70 caliber Winchester lever action carbine he carried on his hunts with Hough, as well as a Civil War era Dahlgren Navy Bowie style bayonet the hunter used as his "bear knife."

Slated to have been the "master of ceremonies" for President Theodore Roosevelt's 1902 Mississippi bear hunt, Bobo was gravely ill at the time of Roosevelt's visit due to an aggressive cancer that already had taken his left eye.
The Bear Hunter died in a Chicago hospital following emergency treatment on December, 1902. Bobo's adventures, as well as the story of the Delta bear hunting culture of which he was such an integral part, are set down in James T. McCafferty's book, The Bear Hunter: The Life and Times of Robert Eager Bobo in the Canebrakes of the Old South.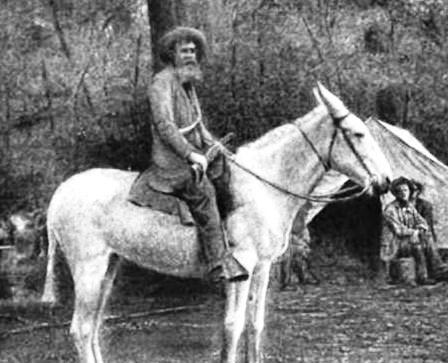 Benjamin Vernon Lilly (1856 – 1836). Ben Lilly was born on New Year's Eve in Wilcox County, Alabama, but his family relocated to Kemper County, Mississippi, while he was but a small boy. After he ran away from home to his Uncle Vernon Lilly's plantation in Morehouse Parish, Louisiana, Ben's parents sent him a military academy in Jackson, Mississippi. He was no more than 12 years old at the time, but soon ran away from there, as well. Lilly wound up in Memphis, Tennessee, where he learned the blacksmithing trade before moving to his Uncle Vernon's plantation in Louisiana. There, he married and eventually inherited his Uncle Vernon's estate.
Lilly, though, by that time, had discovered his true calling in life: bear hunting. Throughout the 1880s he hunted in the Delta parishes and counties of Louisiana and Mississippi. When the bear population began to wane in those states (around 1900) due to the development of agricultural lands (and other factors) he relocated to the Big Thicket country of east Texas. He returned to Louisiana in 1907 to serve as chief huntsman for President Theodore Roosevelt's bear hunt in the Tensas River area of that state.
Lilly frequently killed bears with knives he made himself. He reportedly went through a phase where he did not even take a gun on his hunts. At 5 feet, 9 inches tall, and 180 pounds, Lilly was not a large man. Yet, he was a phenomenally strong one. He could lift a 100 pound anvil with one hand, carry a 500 pound cotton bale on his back, and jump ten and a half feet from a flat-footed stance.
Lilly eventually moved to New Mexico, where he worked as predator hunter for a large ranch, killing black bears, grizzlies, wolves, and mountain lions for bounties that ran as much as $100 per adult specimen. Lilly, though, would not hunt on Sunday, a day he spent in rest and Bible reading. If his dogs treed a panther on Saturday night, said his biographer, J. Frank Dobie, they stayed with it until Lilly was ready to hunt again on Monday morning.
Ben Lilly died on December 17, 1936, two weeks shy of his 80th birthday, in Catron County in southwestern New Mexico.
Emerson Hough (1857 – 1923). Emerson Hough was born and reared in Newton, Iowa. Following his graduation from the state university with a degree in philosophy, Hough apprenticed in a Newton law office and soon was admitted to the bar. Finding the small town Midwestern life far too tame for his liking, Hough relocated to White Oaks, Lincoln County, New Mexico Territory, in 1881. Billy the Kid had been killed in that same locale only a few weeks before. There Hough opened a law office, camped, hunted, wrote for the local newspaper, freelanced articles to magazines, and acquired a life-long love for things western.
In 1886 Hough moved to the Chicago area where he made his living as a fulltime writer working for a variety of publications, one of the leading sporting publications of the day, Forest and Stream, for which he served as "Chicago and the West" editor. In that capacity, he wrote a number of articles on the plight of bison in Yellowstone National Park that are credited with helping save the American buffalo from extinction.
In the fall of 1894 Hough embarked on a sporting tour of the South that began in Tennessee. Memphis railway agent, Thomas A. Devine, assisted with Hough's itinerary. When Hough stopped by Devine's office, Devine introduced him to Coahoma County, Mississippi, planter Robert Eager Bobo, who agreed to take Hough on a bear hunt. That fall Hough spent several days bear hunting with Bobo. Although he did not get a bear on that outing, Hough returned the following fall for another week of bear hunting and was successful.
After both hunts Hough wrote a series of articles for Forest and Stream on his experiences with Bobo. Those articles, with their detailed descriptions of bear dogs, bear horses, bear hunters, the 1890s Mississippi Delta Country, and numerous other subjects may well be the most complete accounts we have of the bear hunting culture that existed in Mississippi Delta of the latter half of the 19th century. For a number of years after his second hunt with Bobo, Hough frequently commented on various subjects related to Bob Bobo and Delta bear hunting on the pages of Forest and Stream. Because of those articles, Emerson Hough truly merits a prominent position in the Canebrake Hall of Fame.
Hough remained close friends with R. E. Bobo until the latter's death.
Hough, who, in addition to his magazine work, was a prolific author of novels and nonfiction books, lived to see at least one of his works, The Covered Wagon, produced as a movie. When World War I began, Hough entered the military at the age of 60 and served as an Army Intelligence captain.
Hough died in 1923.
Paul James Rainey (1877 - 1923). Born in Cleveland, Ohio, Paul Rainey was the youngest of six children born to Eleanor Rainey and her husband, multi-millionaire coal and coke magnate William J. Rainey. Paul, from an early age, exhibited a wanderlust and a love for hunting, especially hunting involving dogs and horses, often spending his Saturdays roaming far from his family's urban home in pursuit of small game among the farms and fields outside the city. His father's only restriction on such outings was that he be back in time for Sunday church services.

Paul never cared much for school or work, and his family's fortune was such that he did not need to. While other young men in their late teens or early 20s were pursuing college degrees or starting careers, Paul was fox hunting and quail hunting. His interest in the latter sport took him to the Ames Plantation field trials outside of Memphis, Tennessee, in 1899. There, he became enamored of the South and soon acquired a home (which he called Tippah Lodge) and farm near the tiny whistle-stop hamlet of Cotton Plant, just north of New Albany, Mississippi, about 75 miles from Memphis. He would eventually own some 13,000 acres of farms, woods, and pastures there, on which he grew champion hogs and cattle and propagated quail, pheasants, and other game. Tippah lodge had its own power plant, railroad siding, and even an indoor swimming pool, at a time when few of Rainey's nieghbors even had electricity or indoor plumbing.
Rainey also began to make frequent trips to Panola County's Delta lands, about three counties to the west of Cotton Plan, where he stayed in local hunting camps and acquired a love for bear hunting with horse and hound in
the time-honored style. Some while after the great bear hunter Bob Bobo died in 1902, in fact, Rainey acquired the remnants of Bobo's dog pack. At least one low quality photo, apparently from a double-exposed plate, has been preserved from that time showing a young, mustachioed, Paul Rainey in a turtleneck sweater, shotgun over his shoulder and mounted on a horse, with two fellow hunters, one of whom has a sizeable bear slung across his mount in front of his saddle.
One night as Rainey and some friends relaxed by the fire at Tippah Lodge, one of the group jokingly suggested trying the Rainey dogs on African lions. Rainey began preparations for a trip to British East Africa – modern day Kenya – immediately.
The locals in Nairobi scoffed at Rainey's plan to hunt lions from horseback using dogs. The dogs, certainly, and the hunters, quite likely, would be killed quickly, they said. The jeers ceased, though, after Rainey's first safari with his pack. Not only was the pack not decimated as predicted, Rainey found that the lions were not nearly as hard on dogs as were Mississippi bears. Rainey's horse and hound method proved so effective, in fact, that the local government officials pressured Rainey to stop hunting in the area where he made his initial safari.
In addition to his adaptation of Mississippi bear hunting methods to African lions, Rainey made a trip to the arctic where he lassoed and captured a swimming polar bear, which was donated to the Bronx Zoo; he served as an intelligence agent during WWI, and he produced the first feature length motion pictures of African big game.
Rainey died while on a ship to Africa in 1923. He was buried at sea. The Rainey Gate of the Bronx Zoo, in New York City, was erected in his honor.
Photographs Needed. More persons will be added to the Canebrake Hall of Fame in the near future. Right now we are looking for photographs or artists' portraits of the following persons connected with the 19th century Delta:
Asa Benjamin Edwards, Coahoma County, Mississippi, farmer, planter, logger, and professional hunter. (b. Kentucky,1808; d. tunica County, Mississippi, 1871).
James (Jimmy/Jimmie) Dick Hill, Issaquena County, Mississippi, Planter. (b. 1831, Kentucky; d. 1885, Nashville, Tennessee). Hill's only direct descendants live in Australia. His was very close to a first cousin in Nashville, though. That cousin's son, Hill McAlister, served as governor of Tennessee from 1933-1937. If you know any descedants of Gov. McAlister, please contact us so that we can inquire of them as to the existence of any photographs of James Dick Hill.
Col. George Richardson Phelan, Lawyer, writer, soldier, adventurer. b. 1847, Marion County, Alabama; d. 1882, Memphis, Tennessee).
Calvin Belcher. A larger than life character who was one of the earliest settlers along Deer Creek in Issaquena County and, apparently, was very well known in his day. He was a log rafter, trapper, and hunter. b. 1792, Maine; d. 1866, Issaquena County, Mississippi.
Michael (Mike) Hooter. Veteran of the Battle of New Orleans and early settler in Yazoo County, Mississippi. Mike Hooter, although a substantial citizen of the Delta village of Mechanicsburg, was portrayed by humorist William C. Hall in comic articles for Porter's Spirit of the times as a bumpkin. Probably no photo of him exists, but it would be great to have one. b. 1791, Avoyelles Parish, Louisiana; d. 1867, Yazoo County, Mississippi.
If you have access to one or more photographs of any of the foregoing or if you know of anyone who might, please contact us at info@canebrakes.com.
We are also looking for any photographs documenting bear, panther, and/or wolf hunting prior to 1930 in Mississippi, Arkansas, and/or Louisiana.
.

Jim McCafferty, creator of this page, is the author of The Bear Hunter: The Life and Times of Robert Eager Bobo in the Canebrakes of the Old South and two children's book, Holt and the Teddy Bear and Holt and the Cowboys. The Kindle version of The Bear Hunter can be previewed and purchased here. Follow this link for ordering information on all three books: Buy the Books.